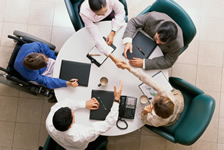 Competency Management Software System
JH Softech Competency Management software is a HR software system for managing your organisation's competency framework, enabling online self and manager Competency Reviews. We have also licensed a comprehensive Competency Library, designed to help organisations implement a comprehensive Human Capital management system. The competency set covers the vast majority of roles for most organisations and supports the Workforce Planning function.
For Government, JH Softech also has available the Federal Integrated Leadership System (ILS) Competency Framework (copyright Commonwealth of Australia reproduced by permission). The above competency frameworks can be used in our Performance Management and Competency Management Software (see below). Competency Manager is ideally suited to the following organisations :
Government at All Levels
Legal Profession
Accounting Profession
Medical Profession and Hospitals
Other Professions With a Tightly Defined or Legislated Competency Framework
Your competency framework is stored within the Competency Manager database, and review forms relevant to the specific role are generated dynamically.
This allows both an employee and their manager to review the capabilities of the employee against the competencies demanded of the role.
In this way, competency gaps are identified allowing for development activities to become more focused.
Competency Manager reports on these identified competency gaps to assist with the formulation of development plans for individual employees.
The identified competency gaps can be used as a visual check list when formulating employee development plans.
The Competency Manager database allows for a wide variety of competency frameworks including Core Competencies, Leadership or Management Competencies as well as specific Technical Competencies.
Even if your organisation doesn't have a Competency Framework, Competency Manager can be pre-loaded with our Competency Library or ILS Framework.
Functionality Overview
Browser based access
Runs on your company Intranet
Employee and manager self service
Fully customisable
Matched to your competency framework
Technical Requirements
Microsoft Internet Explorer V5.5 or later
Microsoft 2000 Server IIS
Microsoft SQL Server 2000 or Microsoft Access database